UPDATE: Dog in fatal attack 'never aggressive'
By WSAZ News

Staff

, Kaitlynn LeBeau, Dan Klein – 

Posted: Mon 5:43 PM, Dec 05, 2016 – 

Updated: Mon 8:16 PM, Dec 05, 2016
UPDATE 12/5/16 @ 5:40 p.m.
HUNTINGTON, W.Va. (WSAZ) — A family is mourning the loss of a 6-year-old boy police say was killed by a dog.
The family of Isaiah Jacob Franklin said the dog attacked Friday at a home in the 2600 block of 9th Avenue without provocation and without warning. Isaiah died from his injuries.
While animal control is trying to have the dog euthanized, for the first time Monday, the family is sharing their story.
They hope to remember Isaiah's life, not his death.
"His smile, definitely his smile," said Isaiah's aunt Jenni Messer with a tear when asked what she would miss most about her nephew. "You could be having the worst day in the world and soon as you seen him, you had to light up."
Franklin went by Isaiah to his friends and classmates at Spring Hill Elementary in Huntington where he was in kindergarten. But his family called him Jacob.
He loved church and music. Messer said also loved the Teenage Mutant Ninja Turtles.
"He was probably their number one fan," she remembers with a smile.
His tastes were so consistent she didn't worry about getting a Christmas gift so early that he would change his mind about what he wanted.
He also loved the color orange. Every birthday when she bought him a pair of shoes, they had to have orange on them somewhere.
"His favorite thing in the world is the color orange. Even before he knew how to say orange or to identify colors, he was always drawn to orange," Messer said.
While Isaiah had been shy for most of his life, she adds he really flourished and became more outgoing in school, quick to ask questions and quick to help.
As for Friday night. Messer said Isaiah was finishing up one last video game before bed, with two other adults in the room and his mother in the next room. A 3-year-old pit bull named Tiny was there too, who had lived with the family since he was a puppy.
"The dog was never aggressive, ever," said Messer. "He was a very nice dog. There was no signs at all that he would ever, ever do anything like that, because if so, the dog would not have been in the house."
Messer adds Tiny was trained well, even pampered. She calls him a nice dog who Isaiah would even take on walks.
But Messer said with no warning signs, no growls, no one even interacting with Tiny at the time, he attacked Isaiah.
"They were very best friends. The dog was always with the kids," she said. "We want answers. We don't have them. We have no idea what happened."
Messer says the adults in the house did all they could to save him, but Isaiah did not survive.
Read more: http://www.wsaz.com/content/news/Child-killed-in-dog-attack-404468515.html
---
6-year-old dies after pit bull attack
HUNTINGTON – A 6-year-old boy has died from injuries suffered when he was mauled by a pit bull Friday night, Huntington Police Chief Joe Ciccarelli confirmed Saturday.
The attack happened just after 9 p.m. Friday in the 2600 block of 9th Avenue. Scanner traffic at the time indicated the boy had suffered severe injuries to his neck and head, and that the dog remained aggressive as first responders arrived.
The boy was rushed to Cabell Huntington Hospital, where he died of his injuries later Friday night. His name has not been released.
Huntington police are conferring with Cabell County prosecuting attorneys to determine if any criminal charges will be filed, Ciccarelli said. The dog and the boy were living in the same household.
"Any charges will depend on a review of the facts uncovered during the investigation," Ciccarelli said. "This is a matter for the prosecuting attorney to assess, and any discussion as to specific charges at this stage would be inappropriate."
Officers from HPD's Patrol Bureau and detectives from the Family Crimes Unit responded and continue investigating. Cabell County Child Protective Services was also on the scene.
By Carrie Hodousek in News | December 05, 2016 at 9:56PM
HUNTINGTON, W.Va. — A dog that police say mauled a young boy to death in Huntington is expected to be put down Tuesday.
Isaiah Jacob Franklin, 6, was attacked by a pit bull Friday at a home in the 2600 block of 9th Avenue without warning, according to family
members. The boy died from his injuries.
Franklin's aunt Jenni Messer said the 3 year old dog lived with the family since it was puppy and was trained well.
"They were very best friends," Messer told WSAZ Television. "He was a very nice dog. There was no signs at all that he would ever, ever do anything like that because, if so, the dog wouldn't have been in the home."
Messer said no one interacted with the dog at the time. She said Franklin was playing a video game before bed with two other adults in the room and his mother in the next room. That's when the dog attacked Franklin, she said.
Read more: http://wvmetronews.com/2016/12/05/dog-in-fatal-huntington-attack-to-be-put-down/
---
2016 Dog Bite Fatality: 6-Year Old Boy Killed by Family Pit Bull in Huntington, West Virginia
DogsBite.org reports
Planting Propaganda
Early this morning, the Herald-Dispatch published an article to place doubt in the public's mind that Tiny is truly a pit bull. Isaiah was "mauled by a dog believed to be of the pit bull breed," Courtney Hessler states. She then proceeds to write a pro-pit bull "public relations article" featuring rescuer Capri Billings, who fears Isaiah's death will set back advocacy for the breed for years. Hessler also quotes Billings'
fraudulent claim that pit bulls are impossible to identify without DNA testing.
For 25 years appellate courts across the U.S. have ruled that a dog owner of ordinary intelligence can identify a pit bull. – DogsBite.org
Hessler does not stop there. In the wake of a family pit bull killing a child, it was important to include Billings' false and dangerous claim that pit bulls have a "natural affinity toward children" — the debunked Nanny Dog myth. Before Isaiah is even buried, it was also important for Hessler to repeat Billings' plea of encouraging citizens to "step outside their comfort zone" and "get to know" pit bulls better — a dog breed that kills more people each year than all other breeds combined.
For evidence that pit bulls do not pose a higher risk of attack than other breeds, Hessler cites the AVMA's 2014 lobbying pamphlet. The pamphlet is designed to obfuscate "bites" versus mauling injuries and obfuscate "breed identity." (See: Selling a lobbying pamphlet as science: Analysis of the May 15, 2014 AVMA pamphlet "Literature Review on the Welfare Implications of The Role of Breed in Dog Bite Risk and Prevention" by animal behaviorist Alexandra Semyonova).
Hessler neglects to include any peer-reviewed studies conducted by doctors of level 1 trauma centers, which treat the most severe injuries. Of the 11 studies published in medical journals since 2009, 10 show a higher prevalence of pit bull injuries and the majority show that pit bulls inflict a higher severity of injury than other dog breeds. The most recent study, a review of 1616 dog bite injuries at a pediatric level 1 trauma hospital in Georgia, even issued a warning to parents:
"Strong consideration to avoidance of any interaction between pit bull breeds and young children, particularly infants." – Characteristics of 1616 Consecutive Dog Bite Injuries at a Single Institution, Clinical Pediatrics, July 2016
What happened to Isaiah and his family is horrific. The pit bull had never shown aggression before. When it did, it cost the boy his life. The two media examples above — one from WSAZ and the other from the Dispatch — show a stark contrast in the wake of this boy's death. The first interviews a family member and focuses on the tragic loss of Isaiah. The second is a pit bull PR "scramble" that plants propaganda after a family pit bull brutally killed a child in its household.
---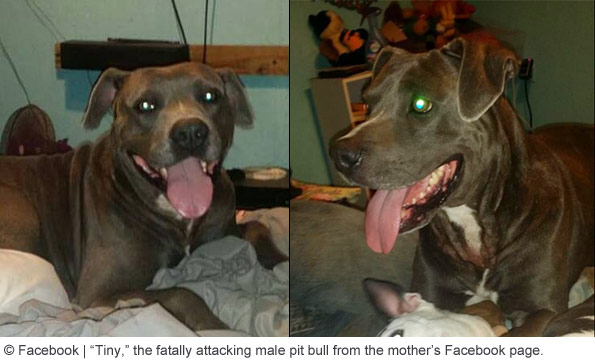 Read full story: https://blog.dogsbite.org/2016/12/2016-dog-bite-fatality-dog-kills-boy-huntington-wv.html
---
American Pit Bull Terrier
The American Pit Bull Terrier is, like all the 'bully' breeds, one of this group of descendants of the British 'bull and terrier' type fighting bulldogs. Once imported into the United States, it was bred up to be bigger again, and again used in baiting animals and in dogfighting. The
American Kennel Club (founded 1884) was unwilling to register these fighting dogs, so in 1898 the United Kennel Club was founded specifically to register working pit-fighting dogs and to promote dogfighting. In order to be registered, a dog had to first win three pit fights7,8,9. The American Pit Bull Terrier (APBT) became a 'breed'. As dogfighting declined in popularity in the 1930s and 1940s, Colby (the most famous and prolific breeder of these dogs) began to search for a new market and began promoting the APBT as family pets10,11. This despite the fact that his breeding lines included child killers12.
The APBT is of medium intelligence, and it is athletic. They have plenty of energy and exuberance for life. They are affectionate companions are often referred to as a "nanny dog", which leads many families to believe that they are suitable companions for children. Many can live happily with children and never have an issue, but there are many cases of the family pit bull suddenly attacking or killing a child in the household. The Pit Bull advocacy group BADRAP recently retracted their original "nanny dog" statements (https://www.facebook.com/BADRAP.org/posts/10151460774472399)13. In 2013 and 2014, in the United States, 27 children were killed by Pit Bulls and their mixes. Most of these children were killed by family pet pit bulls that had never been neglected or abused and had always loved the child. As with all breeds, the traits needed for their original tasks remain in the dogs – in this case, the sudden explosive aggression that was necessary to survive in the fighting pit. An APBT may never show this aggression, but if it does there will be no warning and the attack will not be easy to stop. Extreme caution should always be taken when this breed interacts with children. They are fun loving dogs that have "clownish" behaviors. Despite, their many positive qualities, this breed may not be suitable for everyone. Their high energy requires a family that can accommodate and appreciate this aspect of their personality. They usually do best with active families. Many American Pit Bull Terriers get calmer as they age and an older dog may work for a more reserved family.
---
Tyler Trammell-Huston (9) – Linda, CA – Killed By Sister's 3 Pit Bulls After She Left Him Alone With The Dogs (1/3/16) https://www.daxtonsfriends.com/2016/01/tyler-trammell-huston-fatal-pit-bull-attack-linda-ca/
Payton Sawyers (1) – Independence, VA – Killed By Pit Bull-Mix While Under Care Of Babysitters (1/8/16) https://www.daxtonsfriends.com/2016/01/payton-sawyers-independence-virginia-fatal-pit-bull-attack/
Talen Nathan West (7) – Lumberton, NC – Killed By Neighbor's Pit Bull While Playing In The Woods With His Brother (1/24/16) https://www.daxtonsfriends.com/2016/01/talen-nathan-west-lumberton-north-carolina-fatal-pit-bull-attack/
Aiden Grim-Morelli (3 days) – Youngstown, OH – Killed By Family "Mix-breed Shepherd" When Left In A Laundry Basket (2/8/16) https://www.daxtonsfriends.com/2016/02/aiden-grim-morelli-youngstown-ohio-shepherd-death/
Suzanne Story (36) – Hertford, NC – Killed By A Pit Bull-Mix She Adopted 2 Weeks Earlier (2/10/16) https://www.daxtonsfriends.com/2016/02/suzanne-story-hertford-north-carolina-fatal-pit-bull-attack/
Gladys Alexander (92) – Olympia, WA – Killed By Her Neighbor's 4 Pit Bull-Mixes While Delivering Newspaper (3/8/16) https://www.daxtonsfriends.com/2016/03/gladys-alexander-olympia-wa-pit-bull-mix-fatal-dog-attack/
Bessie Flowers (86) – Charlotte, NC – Killed By Her Daughter's 2 Pit Bulls While Visiting (3/28/16) https://www.daxtonsfriends.com/2016/03/bessie-flowers-charlotte-north-carolina-fatal-pit-bull-attack/
Sonda Dyan Tyson (66) – Leesburg, FL – Killed By Her Own Pit Bull-Bullmastiff mix (3/31/16) https://www.daxtonsfriends.com/2016/03/sonda-dyan-tyson-fatal-pit-bull-attack/
Valente Lopez Aguirre (58) – Fresno County, CA – Killed By Pack Of Dogs (4/14/16) https://www.daxtonsfriends.com/2016/04/valente-lopez-aguirre-fresno-county-ca-robert-simonian/
Sebastian Caban (3 days) – San Diego, CA – Killed By The Family Pit Bull-Mix While Lying In Bed With His Parents (4/21/16) https://www.daxtonsfriends.com/2016/04/sebastian-caban-san-diego-ca-fatal-pit-bull-attack-mira-mesa/
Manuel Mejia (49) – Homestead, FL – Killed By 1 Pit Bull Type & 9 Belgian Malinois-Bulldog Mixes While Farming (4/24/16) https://www.daxtonsfriends.com/2016/04/manuel-mejia-homestead-florida-fatal-dog-attack-2016/
Adonis Reddick (45) – St. Louis County, MO – Killed By His Own Pit Bull (5/9/16) https://www.daxtonsfriends.com/2016/05/adonis-reddick-st-louis-fatal-pit-bull-attack/
Antoinette Brown (52) – Dallas, TX – Killed By A Pack Of 4 Pit Bull-Mixes, Rottweiler, Shepherd & Doberman-Mixes (5/9/16) https://www.daxtonsfriends.com/2016/05/antoinette-brown-dallas-texas-fatal-dog-attack/
Earl Stephens Jr. (43) – Stockton, CA – Killed By 3 Pit Bulls While Visiting A Friend – (6/4/16) https://www.daxtonsfriends.com/2016/06/earl-stephens-jr-stockton-ca-fatal-pit-bull-attack/
Hunter Bragg (7) – Corinna, ME – Killed By A Pit Bull While Playing In Father's Yard (6/4/16) https://www.daxtonsfriends.com/2016/06/hunter-bragg-corinna-maine-fatal-pit-bull-attack/
Erin McCleskey (36) – Manor, TX – Killed By Pack Of Dogs While Serving Papers (6/15/16) https://www.daxtonsfriends.com/2016/06/erin-mccleskey-36-manor-texas-dog-bite-related-fatality/
Jocelyn Winfrey (53) – New Haven, CT – Killed By 2 Pit Bull Type Dogs While Visiting Friend (6/27/16) https://www.daxtonsfriends.com/2016/06/jocelyn-winfrey-hamilton-hicks-new-haven-ct-fatal-pit-bull-attack/
Susie Kirby (3-days) – Fresno, CA – Killed By The Family's 2 Pit Bull/Shar Pei Mixes (6/27/16) https://www.daxtonsfriends.com/2016/06/susie-kirby-fresno-california-fatal-pit-bull-shar-pei-dog-attack/
Kayden Begay (3) – Navajo Nation Reservation, AZ – Killed By The Neighbor's 5 Pit Bulls (7/14/16) https://www.daxtonsfriends.com/2016/07/kayden-begay-navajo-nation-reservation-az-fatal-pit-bull-attack/
Elizabeth Rivera (71) – Detroit, MI – Killed By Her Daughter's 4 Pit Bulls (7/16/16) https://www.daxtonsfriends.com/2016/07/elizabeth-rivera-detroit-michigan-fatal-pit-bull-attack/
Crisencio Aliado (52) – Honolulu, HI – Killed By 2 Loose Pit Bull-Mixes (7/29/16) https://www.daxtonsfriends.com/2016/07/crisencio-aliado-honolulu-hawaii-fatal-pit-bull-attack/
Michelle Wilcox (30) – Screven County, Georgia – Killed By Her Boyfriend's Pit Bull While Visiting (8/1/16) https://www.daxtonsfriends.com/2016/08/michelle-wilcox-screven-county-georgia-fatal-pit-bull-attack/
Derion Stevenson (9) – Las Vegas, NV – Killed By Pit Bull-Mix While Visiting Friend (8/17/16) https://www.daxtonsfriends.com/2016/08/derion-stevenson-las-vegas-nevada-fatal-pit-bull-attack/
Michael Downing (83) – Jacksonville, FL – Killed By Rottweiler & 3 Mixed-Breeds While Taking Out Trash (8/19/16) https://www.daxtonsfriends.com/2016/08/michael-downing-jacksonville-florida-fatal-dog-attack/
Susan Shawl (60) – Conifer, CO – Killed By Her Son's 2 Family Pit Bulls (8/29/16) https://www.daxtonsfriends.com/2016/08/richard-susan-shawl-conifer-colorado-fatal-pit-bull-attack/
Baby Jane Doe (6-days) – College Station, TX – Killed By Breed Unknown (9/1/16) https://www.daxtonsfriends.com/2016/09/baby-jane-doe-college-station-texas-fatal-dog-attack/
Piper Dunbar (2) – Topeka, KS – Killed By Family Friend's 2 Pit Bulls (9/24/16) https://www.daxtonsfriends.com/2016/09/piper-dunbar-topeka-kansas-fatal-pit-bull-attack/
Kiyana McNeal (4) – Sherman Township, MI – Killed By A Doberman-Mix Within An Hour Of Adopting (10/23/16) https://www.daxtonsfriends.com/2016/10/kiyana-mcneal-sherman-township-dog-doberman-fatal-attack/
Daisie Bradshaw (68) – New York City, NY – Killed By Her Daughter's 2 Pit Bull-Mixes (10/25/16) https://www.daxtonsfriends.com/2016/10/daisie-bradshaw-68-staten-island-fatal-pit-bull-attack/
Isaiah Jacob Franklin (6) – Huntington, WV – Killed By The Family Pit Bull (12/2/16) https://www.daxtonsfriends.com/2016/12/isaiah-jacob-franklin-huntington-west-virginia-fatal-pit-bull-attack/
David Fear (64) – Grover Beach, CA – Killed By Neighbor's Police K9 (12/16/16) https://www.daxtonsfriends.com/2016/12/david-fear-grover-beach-california-fatal-dog-attack/